Roots Time BE
https://www.rootstime.be/CD%20REVIEUW/2020/AUG1/CD95.html
" Opvallend debuut van inspirerende Turkse Leuvenaar… "
De in Istanbul geboren Özgür Hazar is een blues/rock gitarist en singer-songwriter. Van 2006 tot 2008 speelde hij in diverse bands in Philadelphia. Daarna keerde hij terug naar Istanbul, waar hij in clubs met zijn band optrad, waarna hij zich in 2018 in Leuven vestigde. In het voorbije jaar werkte hij aan zijn debuutalbum, waarvoor hij de promo single "Sad and Blue" uitbracht, die ook verscheen op het BRR (Broadcasting Radio Recordings) label. Hazar is op gitaar beïnvloed door de "groten" die hem vooraf gingen als BB King, SR Vaughan en Eric Clapton.
Op zijn debuut 'Sad and Blue' wordt Özgür Hazar (zang, gitaar) gebackt door de bassisten Sitki Sencer Ozbay (zes nummers) & Murat Bolat (twee nummers), drummer Jason M en de toetsenisten Julia Driessen (Hammondorgel, piano) & Yavuz Daridere (Hammondorgel, Rhodes). De zang wordt van Hazar in de zwoele opener "I'm on Fire" overgenomen door Raye Cole (een singer-songwriter uit East St. Louis, IL), op het swingende "Baby Blue" op crooner-achtige wijze door de Bulgaar Konstantin Tomov, op het soulvolle "Can't Stop Missing You" erg knap door Nikki N. en, op het Josh Smithnummer "That Ain't Me" door Gorkem Bolaca. Josh Smith is een singer-songwriter uit US
De band staat er als een huis en Hazar is -met zijn snedige gitaarrifs- een prima gitarist, die qua composities en stijl duidelijk eigen keuzes maakt. Zijn eigen composities variëren van uptempo, swingend, bluesy en rustige ballades. Ze zijn verpakt in Latino-achtige bluesy rock als "Let Me Be Your Man", in een shuffle als "Sweet Angel", in rap toestanden als "Fuzz Funk" en, in slow blues à la lettre als de afsluiter "Fade Away".
"Özgür Hazar is een naam die we zeker moeten onthouden, want zijn opvallend, erg gevarieerd debuut blues/rock album 'Sad and Blue' is kortweg een unieke uitstekende starter…" (ESC for Rootstime.be)
Maxazine Belgie
Özgür Hazar, born in Istanbul in 1976, is a blues/rock guitarist living in Leuven, Belgium, who recently released his debut album. From 2006 to 2008 he played in several bands in Philadelphia, USA. He then returned to Istanbul, where he played in the clubs with his band. Özgür has been living in Leuven since March 2018. His first single was released in September 2019 and now the debut CD 'Sad And Blue' has been released.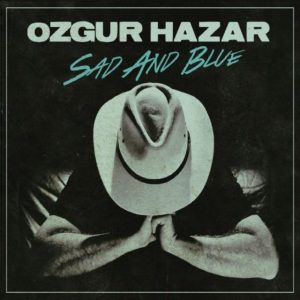 The CD contains nine songs, eight of which are self-written. The only cover is 'That Ain't Me' by Josh Smith. Hazar, who provides vocals and guitar, is accompanied by bassists Sitki Sencer Ozbay (6 songs) and Murat Bolat (2 songs), Julia Driessen (piano, organ), Yavuz Daridere (hammond, Rhodes, bass) and Jason M (drums ). On a number of songs the vocals are taken over by Gorkem Bolaca, Ray Cole, Nikki N. and Konstantin Tomov. In terms of style, we are right here in the heavy and melodic rocking blues. We hear alternating songs that are uptempo, funky swinging and calm ballads.
The band is rock solid and Hazar is a great guitarist, who is clearly influenced by Eric Clapton, BB King and Stevie Ray Vaughan to name a few. In addition, his own contribution is large enough to call him a flat copyist. The compositions and execution consist of several layers and have sufficient depth to guard against this. Songs that deserve an extra mention are the title track 'Sad And Blue' and the ballad 'Can't Stop Missing You' sung by Nikki N.. In short, a great debut album. (8/10) (own management)
Rootsville
https://rootsville.eu/2020/album%20reports%202020/reports/ozgur%20hazar.html
Özgür Hazar (TR)
tiltle: Sad and Blue
music: Blues – Bluesrock
release date: 2020
info artist: Özgür Hazar

© Rootsville 2020

Ozgur Hazar was born in 1976, guitarist and singer from Istanbul but residing in Belgium. Influenced by Stevie Ray Vaughan, Jimi Hendrix, Eric Clapton, BB King, Matt Schofield and other Blues legends. He lived in the USA – Philadelphia between 2004 – 2006 and played with several bands in clubs. Played many concerts and clubs in Istanbul with his band. In March 2018, Özgür moved to Leuven. The lead single 'Sad and Blue' was included in BRR album sampler 11th edition along with great artists such as Allman Betts Band, Samantha Fish, Laurence Jones Band, Danny Bryant, Ken Valdez, Savoy Brown and others.
Özgür Hazar will release his rock album 'Sad And Blue' in 2020. The nine-track album features emotional instrumentation, narrative lyricism, and anthemic vocal performances by Özgür Hazar and many others. 'Sad And Blue' exudes a narrative, inspiring atmosphere that will nourish the soul. The album undoubtedly has the potential to influence the listener as it features a unique style that gives the overall song an identity. From 'Sweet Angel' to 'Fuzz Funk', the album has it all to influence the listener.
The powerful guitar riffs, stirring instrumentation, the lyrical depth and the overall flow of the album take the listener on a musical journey. 'Sad And Blue' has the ability to resonate with any blues lover as it has every element to be catchy, memorable and impressive. Özgür Hazar will tour in January 2020 and promote the album in Belgium and the Netherlands